Monopoly and oligopoly are economic market conditions. Monopoly is a market condition whereby only one seller is selling a completely heterogeneous product at the marketplace, having no close or similar substitutes to the product offered by the seller. On the other hand, oligopoly is a type of competition, whereby there are a few number of vendors in the market selling differential products or nearly differential products. In an oligopoly, there are only a few firms operating in the market and so, the sellers are influenced by the activities of other sellers.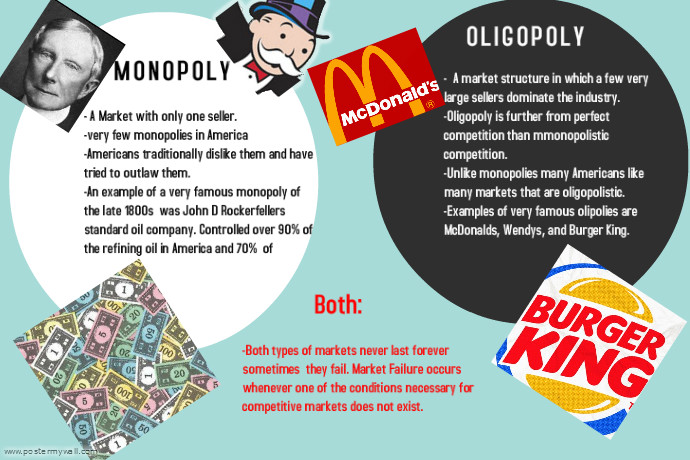 Both economic markets have their own characteristics. Monopolistic markets are controlled by one seller only. The seller here has the power to influence market prices and decisions. Customers have limited choices and have to choose from what is supplied. The monopolist asserts all the power while the consumer is left with no choice. This market condition usually arises from mergers, takeovers, and acquisitions.
Oligopoly, on the other hand, is a market condition where numerous sellers co-exist in the market place. Because it induces competition amongst sellers, this market situation is very consumer-friendly. Competition, in turn, ensures moderate prices and numerous choices for consumers. A decision taken by one seller in an oligopolistic market has a direct effect on the functioning of other sellers.
The market can also be identified from the source of power. A monopolistic market derives its power from three sources: economic, legal, and deliberate. By reducing prices to such an extent that survival for another seller may become impossible or by virtue of economic conditions like the large capital requirement for startup companies, a monopolistic entity will use the position to its advantage and drive out competitors either. Legal barriers like intellectual property rights also help a monopolistic entity retain its power. Collusion and lobbying governmental authorities are the examples of deliberate attempts for monopolistic markets.
Unlike monopolistic market, an oligopolistic market does not have any sources of power. The oligopolistic market comes into existence solely due to the accommodating nature of other sellers. There are various forms of oligopoly namely as follows:
Open oligopoly is when the new firms are free to enter.
Closed oligopoly is when restrictions are there for entering the market.
Perfect oligopoly is when the product is identical in nature.
Imperfect oligopoly is when firms sell different products
Collusive Oligopoly is when the firm act, in cooperation with other firms in the market in setting the price and output.
Competitive oligopoly is when the cooperation is missing between firms, and they compete with one another.
Others include partial or full oligopoly, syndicated or organized oligopoly, etc.
In term of prices, a monopolistic market may quote high prices. The sellers will use their status of dominance and maximize their profits since there is no other competitor to fear from. Oligopoly markets, on the other hand, ensure competitive hence fair prices for the consumer.
Practically, the monopoly can be seen in services related to the public utility like transport, electricity, water and so on. In the US, Long Island Rail Road and Long Island Power Authority are examples of monopolistic markets.
One can find oligopoly in industries like a cold drink, automobile, telecommunication etc. An oligopoly exists in Australia in the telecom sector (Telstra rents phone lines to other providers and they subsequently rent to customers), the grocery business (Coles and Woolworths) and media outlets (News Corporation, Time Warner, and Fairfax Media).